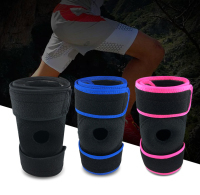 (1 Pair)Knee Support Brace for Running with Adjustable Strap
$26.90
I'm an old fart with a torn meniscus, floating bodies -cartilage and bone, and a page full of other knee problems. This brace fits tightly and gives me the support that allows an 88 year old to continue to go to the gym and use a bike, a rowing machine, assorted arm and leg machines and get on the floor to stretch. So good I bought another for the other knee.
I absolutely love this knee brace. I've owned a few in my years and this one is superior. I must admit I was super excited upon opening it and examining it, from the breathable fabric, to the silicone gel grip, elastic and overall length. This one fits perfectly, Not too tight like others I've had. This fits snug. I hardly remember that I have it on. It doesn't roll up when moving and allows good movement without restricting blood flow and leaving horrible elastic marks like others.

Your cart is currently empty.